A couple of weeks ago I received an invite to my to my cousin's baby's "Bris-ket." What's a bris-ket you might ask?
/bris-ket/: a post hospital Bris where the only meat being cut is a corned beef sandwich.
For those of you unfamiliar with a Bris, it's the Jewish ceremony for a circumcision. The "snip of the tip" if you will.
As soon as a I heard that a deli-filled "bris-ket" was occurring, I knew the perfect gift would be pickle-themed cookies (kosher pickles of course) in custom pickle jars. After all what's a bris-ket without pickles?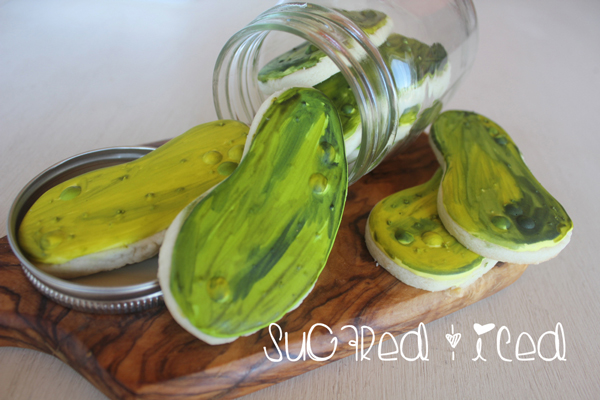 I mean this adorable little guy deserves something memorable wouldn't you say?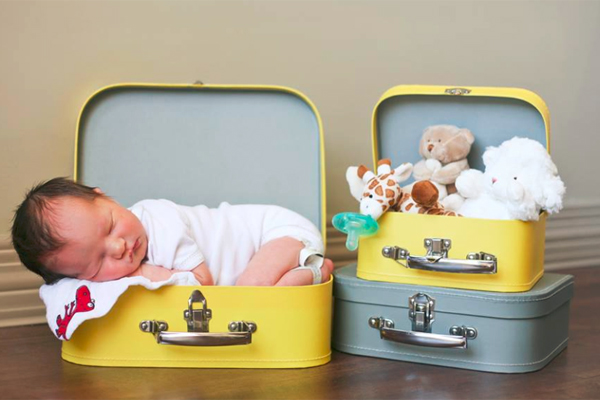 And as if this idea couldn't get better, I will now tell you that the baby's name is Dylan, so I realized it would be a jar of Kosher Dylans (get it?? Dill pickles?) there was no turning back. I admit the greatness of the name didn't even dawn on me untill after I came up with the pickle idea, but it might just be the best idea I've ever had.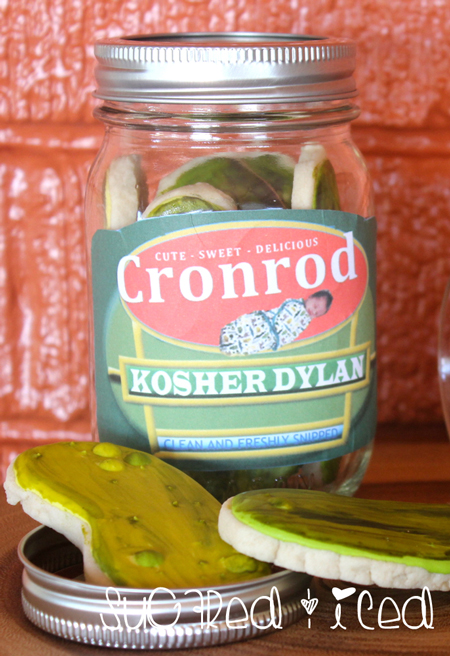 I set to work on the cookies, I hand cut the pickle shape and took extra care to give the pickles a variety of bumps and shades of color to make them seem authentic. Because royal icing doesn't blend colors together particularly naturally like a pickle might be, I opted to hand paint them using two different shades of green.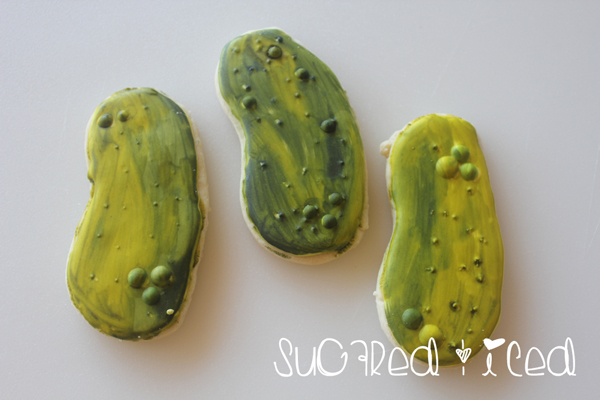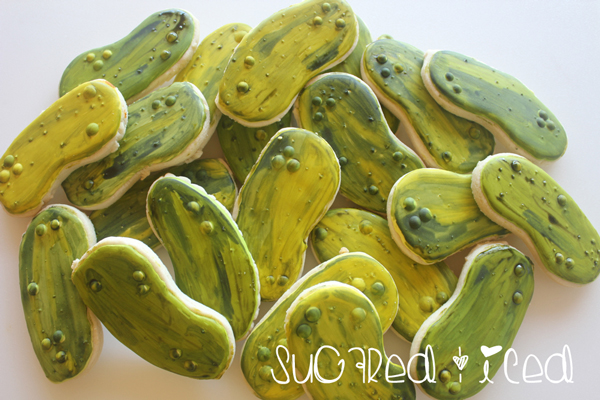 While the cookies look remarkably like pickles on their own, see demo here: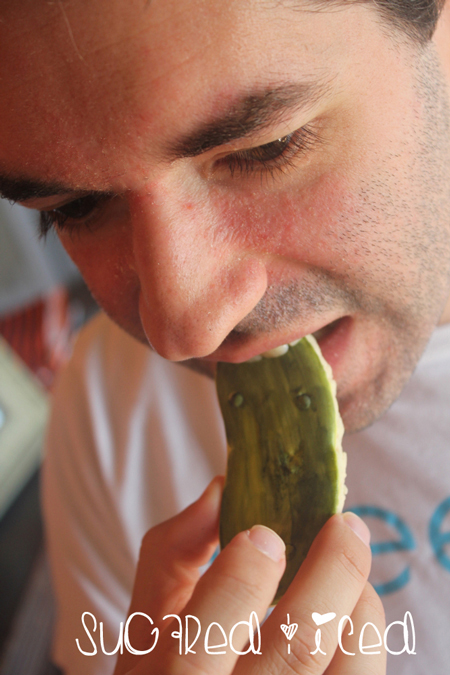 What really sells them is the jars and what makes it a unique gift is the custom label. I had in my head the visual of the Claussen's Kosher Pickles jar. Since my cousin's last names are Cronrod and we already had the Dyl – pickles joke going, I knew the copycat  would workout really well. My husband wanted to get involved (he helps with every batch of cookies) but he really got hands on and creative in carrying out my vision. He even surprised me with the adorable addition of a picture of baby Dylan who just happens to be wrapped into the shape of a pickle, (thanks for posting that one dads!) right in the spot where a crispy pickle should have been.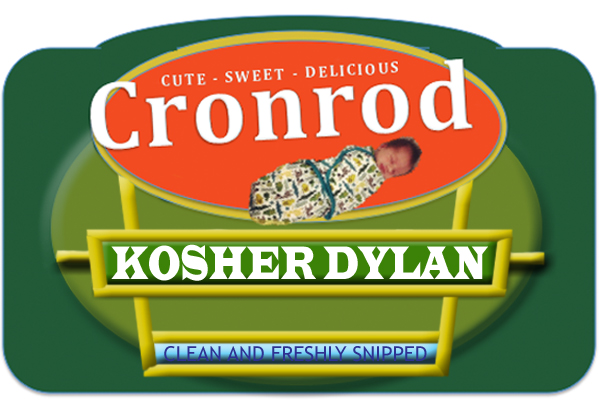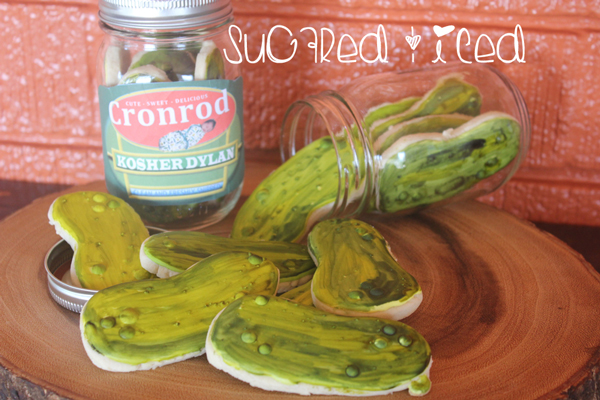 I will also mention that the jar while an obvious choice for the pickles (and super cute) they are also super functional. The glass vessel keeps the cookies safe and secure for a trip and also keeps them delicious and fresh. I traveled with these cookies, so I brought them in two medium sized jars to make sure they would be packed in tightly enough to make the flight. Mason jars are so popular right now, there are really so many cute cookies and themes you could use them for.  A larger jar would be great for a party display the medium or smaller jars make for an adorable gift or favor for a wedding, Bar Mitzvah, holiday or any kind of party really. So many options!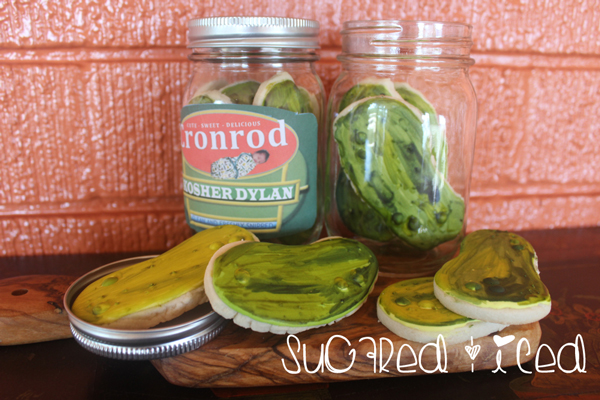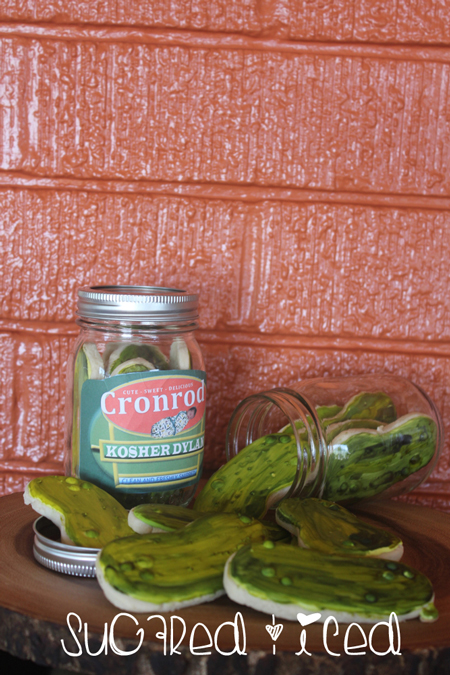 I actually was so inspired by making these jars that I will be doing a monthly "Cookie Jar" feature so stay tuned for more!