I am a huge fan of the Peanuts, pumpkins and all things Halloween, so it should come as no surprise that "It's the Great Pumpkin, Charlie Brown" tops the list as one of my favorite movies. I have it on VHS, Blu-Ray and an awesome iPad version of the book. If this is already sounding weird, I should probably refrain from mentioning that I also spent a couple of years dancing as Peanuts character at Knott's Berry Farm. I will add that I especially love this movie because it features Linus who is essentially me as a child (maybe as an adult too.) Like Linus, I have a deep appreciation for pumpkin patches and blankets and I believe both deserve to be treated with utmost respect.
While these cookies would be an excellent addition to my annual viewing of the movie or my pumpkin party I didn't actually make these cookies for me. A couple of months ago I signed up to be part of a really amazing event: The Go Bo Foundation Bake Sale! Cookie artists from all over the world will be donating cookies to benefit the Go Bo Foundation, an organization that funds research, supports treatment, and helps families of children with life-threatening medical conditions. When deciding what type of cookies to donate, it only made sense to channel a little bit of Linus and create the most sincere pumpkin patch possible.
I'll admit that it's my favorite set of cookies to date. Did I also mention that they are pumpkin spice cookies?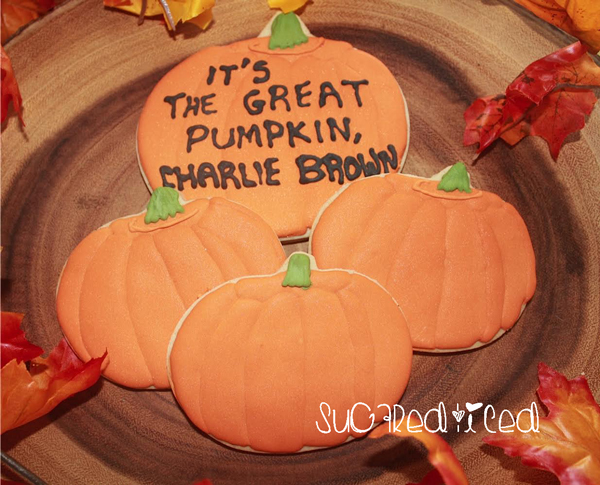 And now I give you "It's the Great Pumpkin, Charlie Brown" told in cookies.
Excited for Halloween everyone prepares their Halloween costumes and prepares for the big Halloween party.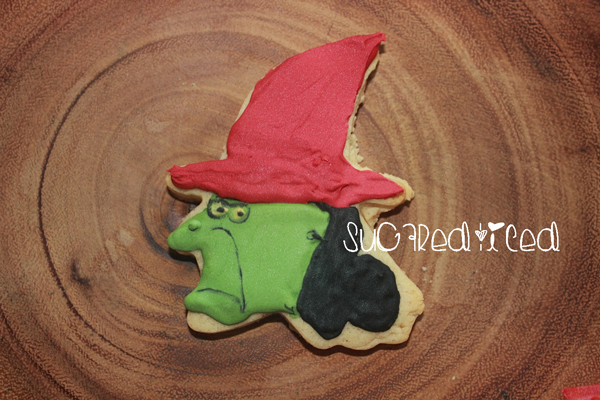 "A Person should always choose a costume that is in direct contrast to her own personality."
Everyone except Linus that is, who is too busy thinking about the arrival of the Great Pumpkin.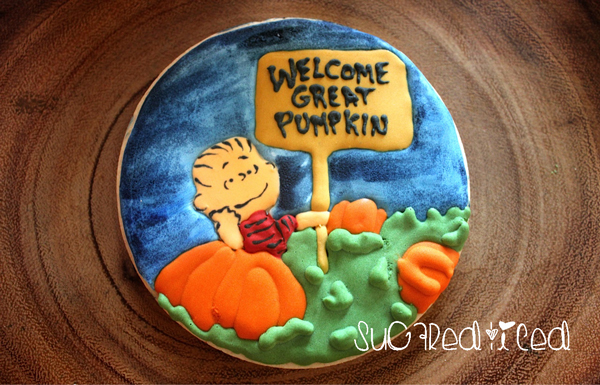 "There are three things you should never talk about: religion, politics and the great pumpkin."
 While everyone else heads out for "tricks or treats," Sally and Linus wait in the pumpkin patch.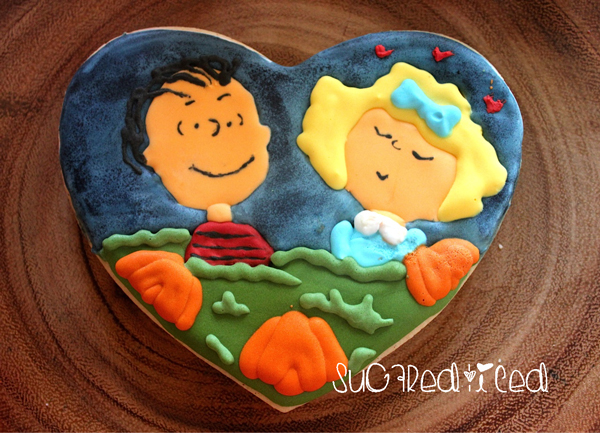 "The great pumpkin chooses the pumpkin patch that is most sincere."  
Despite all of the great candy and gum everyone else gets while trick or treating, Charlie Brown ends up with a bag full of rocks.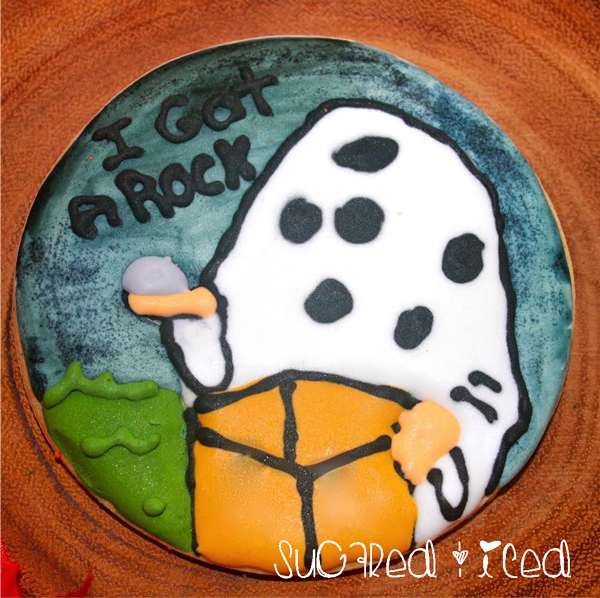 "I got a rock" 
On his way home from the Halloween party, Snoopy stops by the pumpkin patch. His silhouette reflects against the moon making Linus think that the Great Pumpkin has come.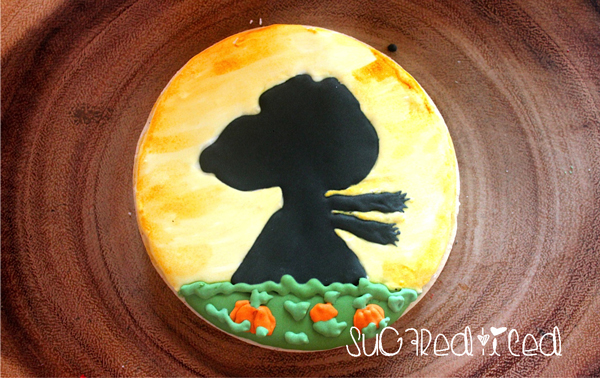 Linus and Sally are startled by Snoopy and Linus passes out thinking the Great Pumpkin has arrived.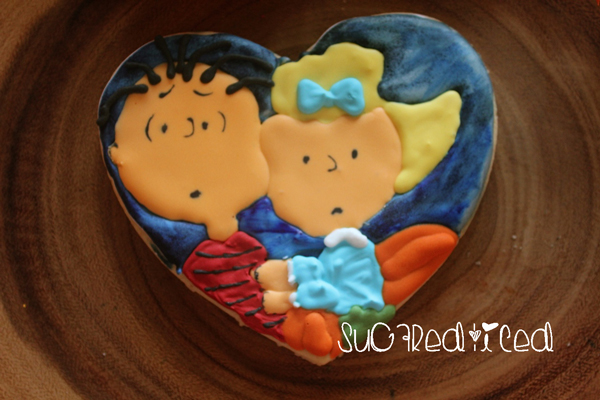 Sally realizes that the Great Pumpkin is never coming and demands restitution. She leaves Linus in the pumpkin patch where he falls asleep. He vows to wait again next year.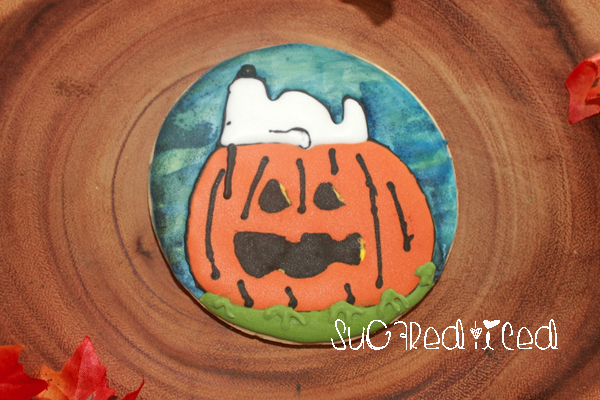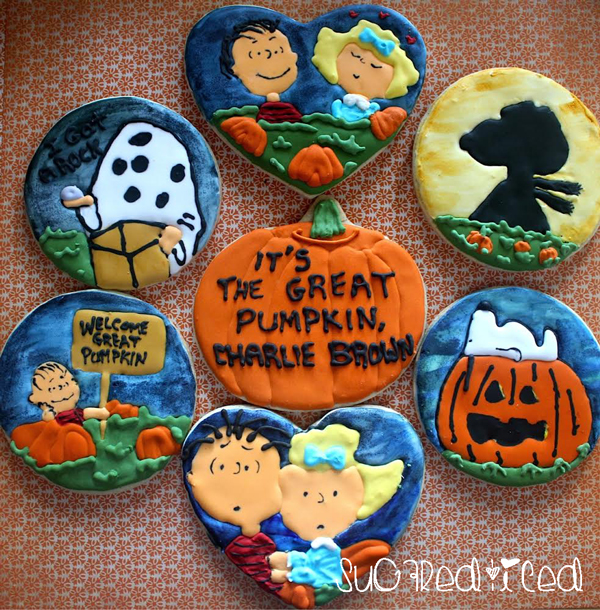 As part of the set for Go Bo, we were asked to include one butterfly cookie. I of course had to stick with the theme, so I made a jack-o-lantern butterfly.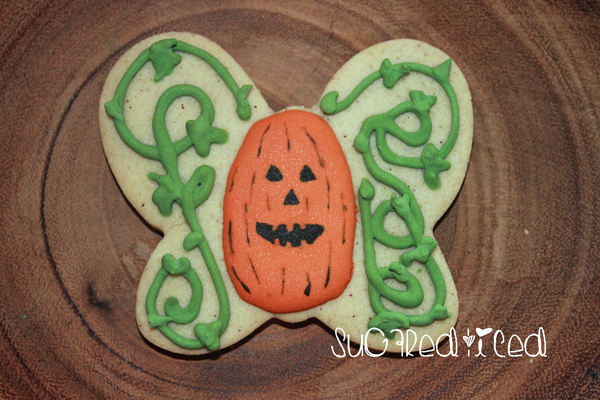 I love these cookies for several reasons: the theme obviously, the pumpkin spice flavor and the good cause they are going to.  I hope they spread joy in Door County, Wisconsin where they are headed off to tomorrow.