With Thanksgiving just a few days away, all I'm thinking about is food. But it got me thinking, everyone loves all the wonderful traditional Thanksgiving foods, spend hours before and after talking about what they're excited to eat, what tasted the best, etc but I rarely hear much about the drinks! There are plenty of wonderful Thanksgiving-themed cocktails to be had to compliment your meal and they just do not get enough attention. Here are a few that made my must have list. Taste one, two, or all of them, and I think you're going to be feeling pretty thankful. All your favorite thanksgiving flavors poured into a glass! Much easier to prepare than a Thanksgiving dinner.
7 Thanksgiving Cocktails You Need to Try
1. Pass the Turkey
Looking for something that screams Thanksgiving? This one is for you!

Ingredients
1 ½ ounce Wild Turkey 101
2 ounce apple cider
1 tablespoon cranberry jelly
1 sage sprig
1 thyme sprig
Turkey jus and bread crumbs to rim the glass
Muddle sage and thyme with apple cider in a shaker. Then add ice, bourbon, and cranberry jelly. Shake well and strain over ice in a glass rimmed with turkey jus and breadcrumbs.
Source: Wild Turkey Bourbon
2. Liberation Libation
Whether you are escaping to a new land or just want a drink that tastes like everything good about fall.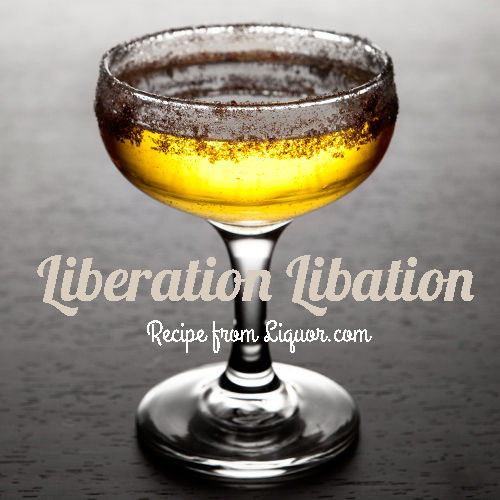 Ingredients
2 oz Vermont Gold Vodka
.5 oz Maple syrup
1.5 oz Sparkling apple cider (non-alcoholic)
Equal parts cinnamon and sugar to rim the glass
Combine vodka and maple syrup in an ice-filled shaker. Stir, and strain into the prepared glass. Top with the cider.
3. Pumpkin Hot Toddy
Hot toddy's are delicious and seasonal all on their own, but throw in some pumpkin and you take it to a while other level of Thanksgiving love.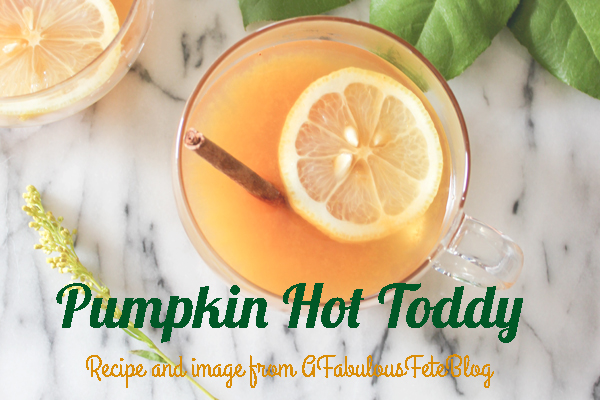 Ingredients
½ cup ginger liqueur
6 cups apple cider
½ cup pumpkin puree
Cinnamon sticks
½ teaspoon vanilla extract
Small lemon sliced into wheels
Whipped cream and nutmeg for garnish (optional)
Place all ingredients in a sauce pan and heat just until steam rises. Lower heat to keep warm. Ladle into mugs and top with whipped cream and fresh ground nutmeg.
4. Pomegranate and Orange Sangria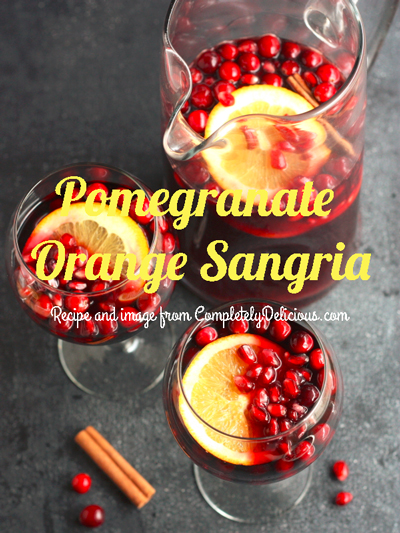 Ingredients
1 bottle red wine
1 cup brandy
1 cup pomegranate juice
1 cup (237 ml) freshly squeezed orange juice
1 orange, thinly sliced
1 pomegranate, arils removed
1 cup fresh cranberries
1 cinnamon stick
In a large pitcher, stir together the wine, brandy, pomegranate juice, and orange juice. Add orange slices, pomegranate arils, cranberries and cinnamon stick. Chill in the fridge for 2 hours. Serve over ice.
Source Completelydelicious.com
5. Modern English
In honor of those pilgrims.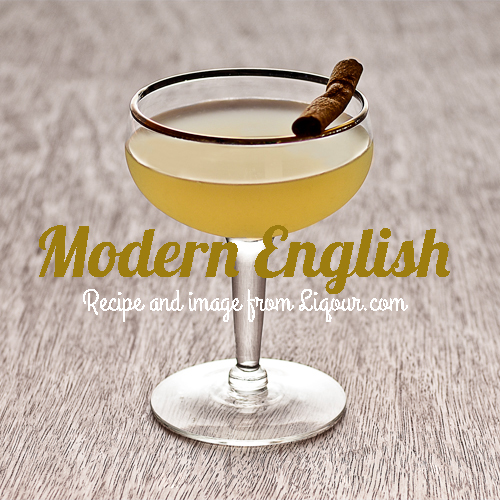 Ingredients
2.5 oz Bulldog Gin
.5 oz Maple syrup
2 Lemon wedges
Half a fresh pear
Half a cinnamon stick for garnish
In a shaker, muddle all the ingredients except the gin. Add the gin and fill with ice. Shake well and double strain into a Martini or coupe glass. Garnish with a cinnamon stick.
6. Pumpkin Pie Martini
All the flavors of the classic Thanksgiving dessert. We served this at our wedding and it was a huge hit.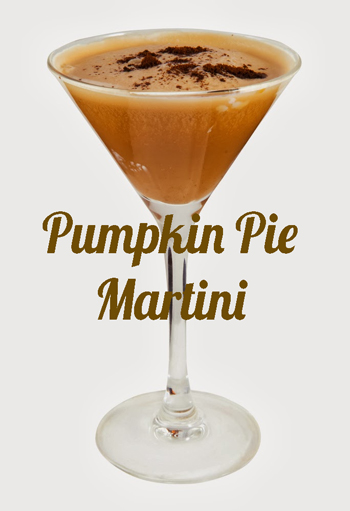 Ingredients
1 ½ ounce vanilla vodka
1 ½ ounce pumpkin pie liqueur
½ ounce half-and-half
Add all ingredients into a shaker with ice. Shake and then strain into a martini glass. Garnish with cinnamon.
Want One Less Thing to Think about Thanksgiving Day? Make This Cocktail in Advance
Whether you are knee deep in Thanksgiving cooking or in charge of bringing the drinks, this is a perfect choice if you want to get the hard work out of the way early.
7. Spiced Cranberry Rum Fizz 
Don't be intimidated by this list of instructions. It's easier than it looks and well worth the bit of effort. You can also use the simple syrup and cranberry mixer to make other cocktails- get creative!
Orange Ginger Simple Syrup

Peeled zest from 2 oranges, white pith removed
½ cup grated fresh ginger
1 cup sugar
1 cup water
Combine orange zest, grated ginger, sugar and water in a small saucepan over high heat. Bring to a boil and reduce to a simmer. Cook for 7 minutes. Let it cool to room temperature then strain through a fine mesh strainer and discard the solids. Refrigerate in a sealed container for up to 1 week.

Spiced Cranberry Mixer

6 tablespoons the orange ginger simple syrup you just made
2 cups unsweetened 100% cranberry juice
1 cup plus 2 tablespoons white rum
In a pitcher, stir together the orange ginger syrup, cranberry juice and rum. Refrigerate for up to 1 week after you made the orange ginger syrup.

Cocktail

¼ cup Spiced Cranberry Mixer
2 tablespoons chilled dry sparkling wine
Sliced fresh cranberries for garnish (optional)
Pour cranberry mixer into a couple glass and top with sparkling wine. Stir once and garnish with cranberries.
Don't have time to restock the bar for Thanksgiving? Try throwing in a few items you probably will have on hand, to give classic drinks a holiday twist.
Festive Cocktail Garnishes 
Cranberries. no stranger to cocktails they add a festive look to any drink. Skewer or float a few fresh cranberries in your drinks for a festive look.
Sugared Cranberries. If you are afraid your cranberries are too tart -equal parts cranberries, water and sugar in a saucepan and bring to a simmer (do not boil them.) Drain and roll in sugar keeping the juice to sweeten up another cocktail. Keep in your fridge until ready to use.
Pecans. Toasted and finely crushed nuts make a tasty rim.
Herbs. Rosemary and time can be mixed into sugar for your glass rim or muddled into a drink for a new twist. If you are making martinis, skip the toothpick and put your olive on a rosemary sprig.
Cinnamon Sugar. Always on hand, always delicious, perfect for spicing up a glass rim.
Cinnamon Sticks. If you are making a cider or festive cocktail a cinnamon stick will add a touch of flavor, but more importantly an amazing aroma that will make your drink hit all of the senses.
What's your favorite holiday cocktail? Tell me in the comments below!