In honor of the premiere of the new TV show Star Wars Rebels, I made a special treat that is out of this world…maybe even out of this galaxy. My husband is a HUGE Star Wars nerd fan and he is super excited for this series. Filling in time between the original Star Wars trilogy and the prequels, Rebels will tell the tale of the origin of the Rebel Alliance in response to the oppressive Galactic Empire.
I have these really great Star Wars cookie cutters from Williams-Sonoma, but I wanted to try to make something myself instead. Keeping in theme with the actual show, it seemed appropriate to show my support for the Rebel Alliance, by emblazoning my cookie with their bold and fierce insignia. I really like how the red stands out so well against the black. This logo should be recognizable to anyone from the non-Star Wars fan to the mega fan. I have seen it on all kinds of merchandise: mugs, shirts, hats, Disney pins, etc. Now, excuse me a minute, while I get a little geeky with its historical background: Formally known as the Alliance Starbird, it was actually adopted from the Marek family crest in honor of Galen Marek, an apprentice of Darth Vader, who sacrificed himself for the Alliance. It is also described as a rising phoenix, symbolizing the Alliance's vision of the former Galactic Republic rising from the ashes of the evil Galactic Empire. OK getting far too geeky now! Back to the snacks!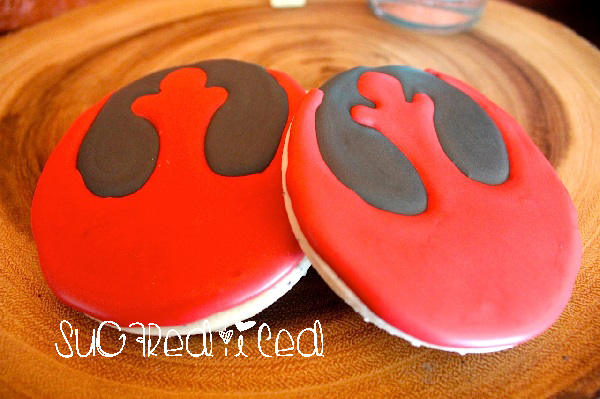 If we are going to be eating these while watching an exciting show, it seemed appropriate to have a tasty beverage to wash down the cookies. My husband reminded me of the famous blue milk that is featured in the earlier movies, which seems like a pretty obvious choice to go with really ANY Star Wars cookie.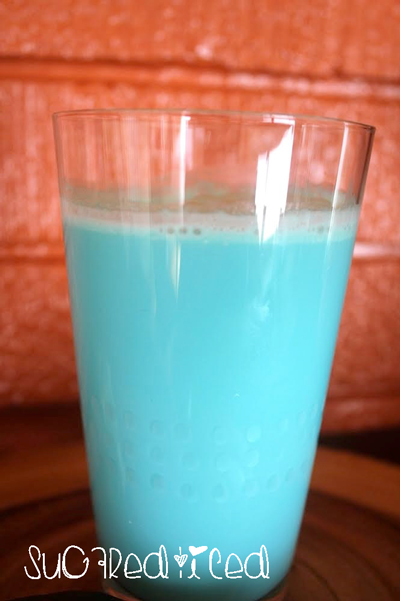 In Star Wars, blue milk is the milk of a female bantha, a large wooly mammoth like seen on Tattooine. In the real world, blue milk is a tasty cocktail that is wild enough to even get Emperor Palpatine to have a good time. The recipe for the cocktail, which I found on castlesandcooks.com, is as follows:
Ingredients:
3 ounces of milk
1 ounce of cream
1 ounce of coconut rum
1 ounce of amaretto
2 ounces of blue curacao
Fill a shaker with ice, throw all of these ingredients in, shake for about 20-30 seconds, and you should have two servings of Blue Milk ready to go. Be sure to serve it in a chilled glass to keep the temperature low.
You can even substitute some non-alcoholic elements in so your Padawans (that's 'kids' in Jedi-lingo) to enjoy blue milk as well:
3 ounces of milk
2 ounces of coconut milk
2 ounces of orange juice
1/2 tsp almond extract
Blue food coloring
I'm not sure if I can recommend that you dunk cookies in an alcoholic milk drink, but go ahead and try it! Enjoy the show and May the Force Be With You!
*This post was significantly edited by my husband. Let's be honest he pretty much wrote it. It's written by Sam Meyers either way, so it's all the same person anyhow.