Often people think about giving cookies as the main gift or using cookies to serve at an event, but cookies can be a great addition to enhancing a gift as well. There are endless options for incorporating cookies into a present and they are especially a great accompaniment for something like a gift card, a requested gift that you want to add a surprise to, a present that requires explanation or a perfectly great gift that needs a little extra pizazz.
A camping griddle for example is one of those gifts.
A couple of weekends ago my brother-in-law Max celebrated his 25 birthday. Happy Birthday, Max! To commemorate his birth the family went on a camping trip. But before you start imagining me deep in the woods, potentially being eaten by bears and other creatures that may find me delicious, I should mention the camping occurred on a property where a house should have been and a wedding just occurred. Even though it may not have been a true camping experience, we'll skip that technicality and note that I did my best to get in the spirit! I wore my best plaid shirt, adorned my poofiest vest and thought camping thoughts.
So, back to the gift. We had picked out a camping griddle complete with a tiny folding spatula set for him in honor of the experience and his love for the outdoors. Both camping themed and practical, it assisted in the making of some delicious morning pancakes.  That being said, I realize that a cooking utensil birthday gift might seem slightly unexciting, so what better than cookies to spruce it up, while also serving as a clue as to what this plain, black, metal pan could be used for.
Having just made my grandfather his 90th birthday breakfast cookies, I was in breakfast mode and also knowing that the pan would be put to use for pancakes, pancake cookies seemed like the perfect addition.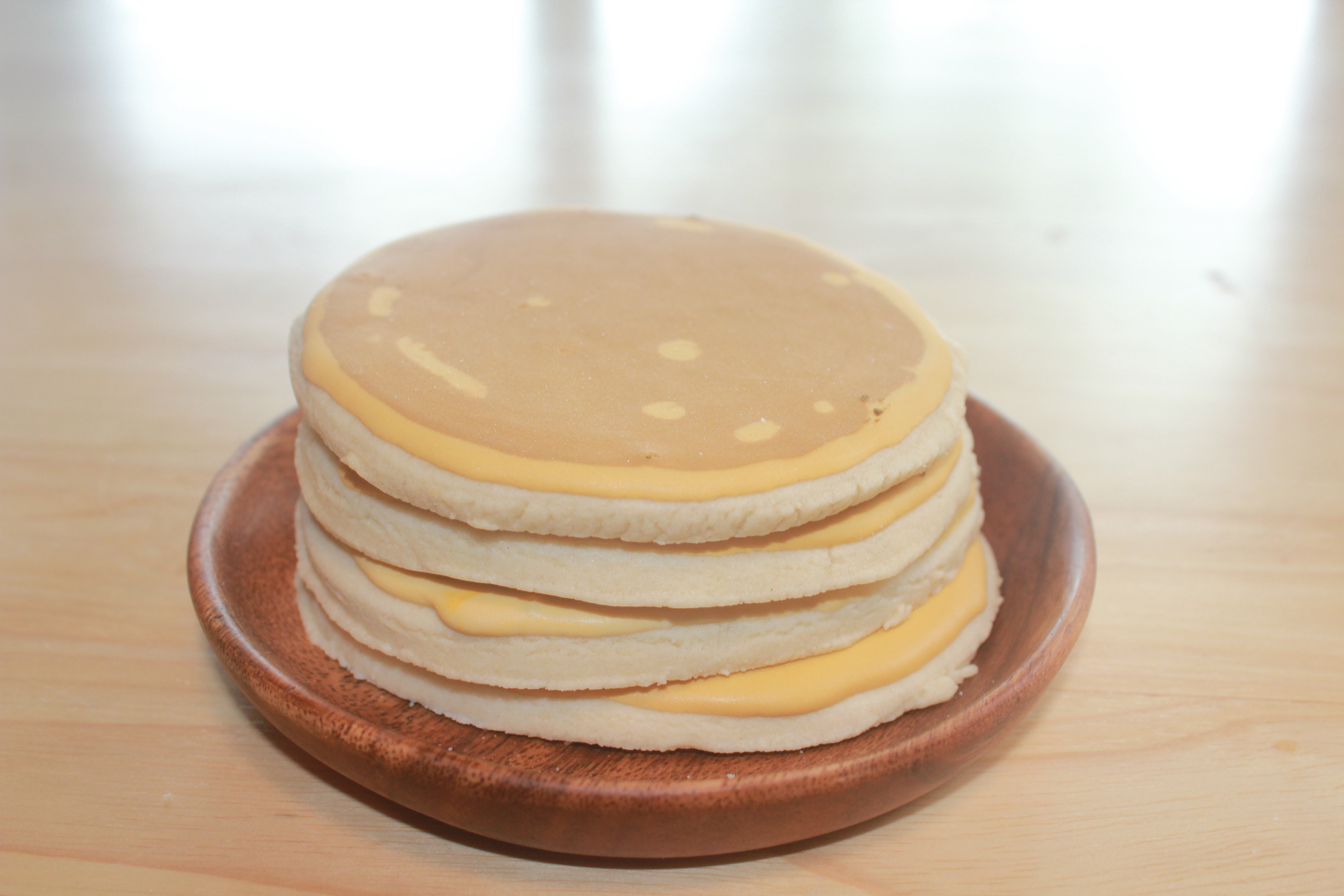 I used a few different colors to give it an authentic pancake look – there's always a weird light one and always one that's a bit on the darker side. Another detail is how the edges never quite reach the color of the rest of the pancake and there are always a few lighter pockets on the side.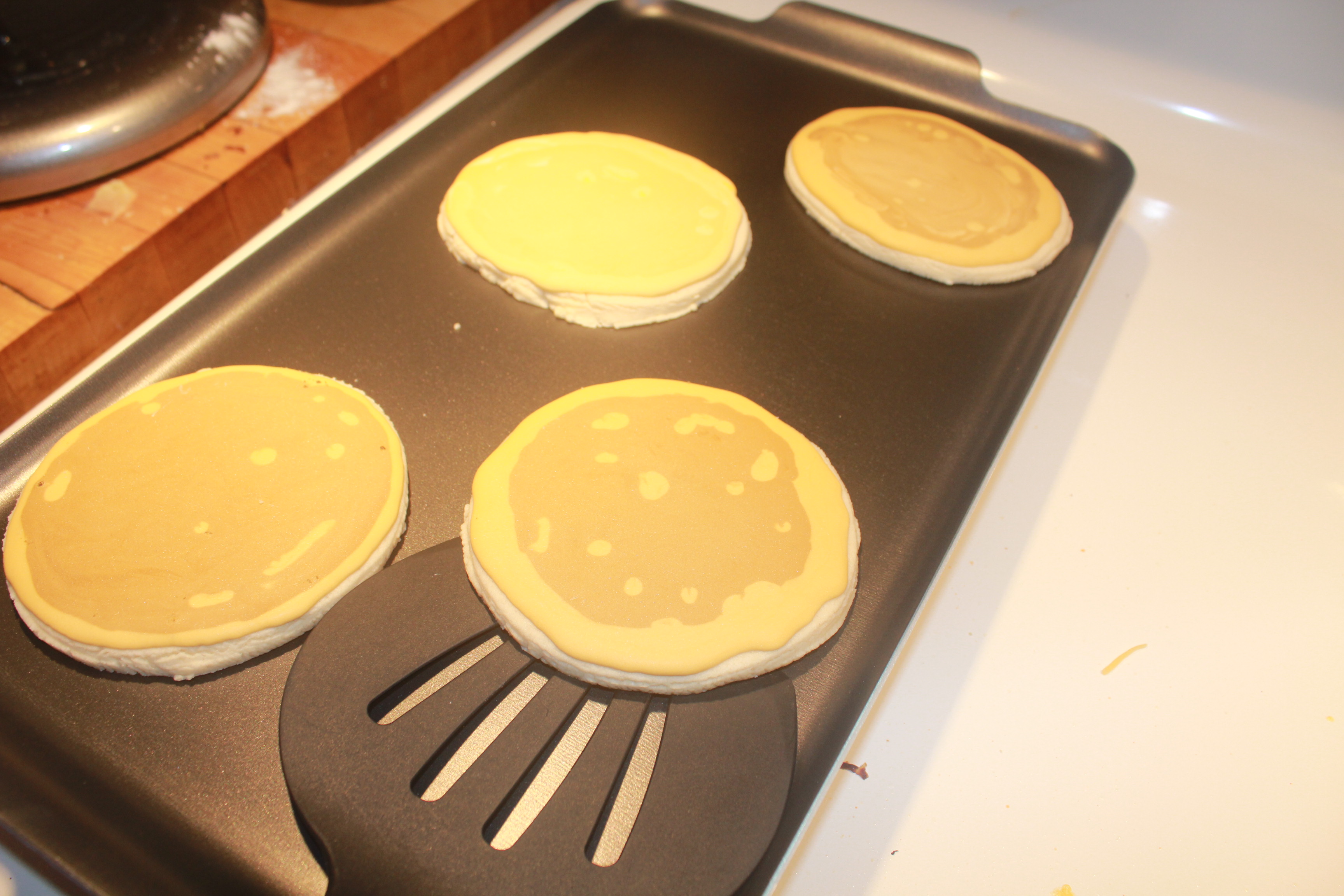 And of course you can't have pancakes without syrup and butter, so I had to put a little bit of that on too!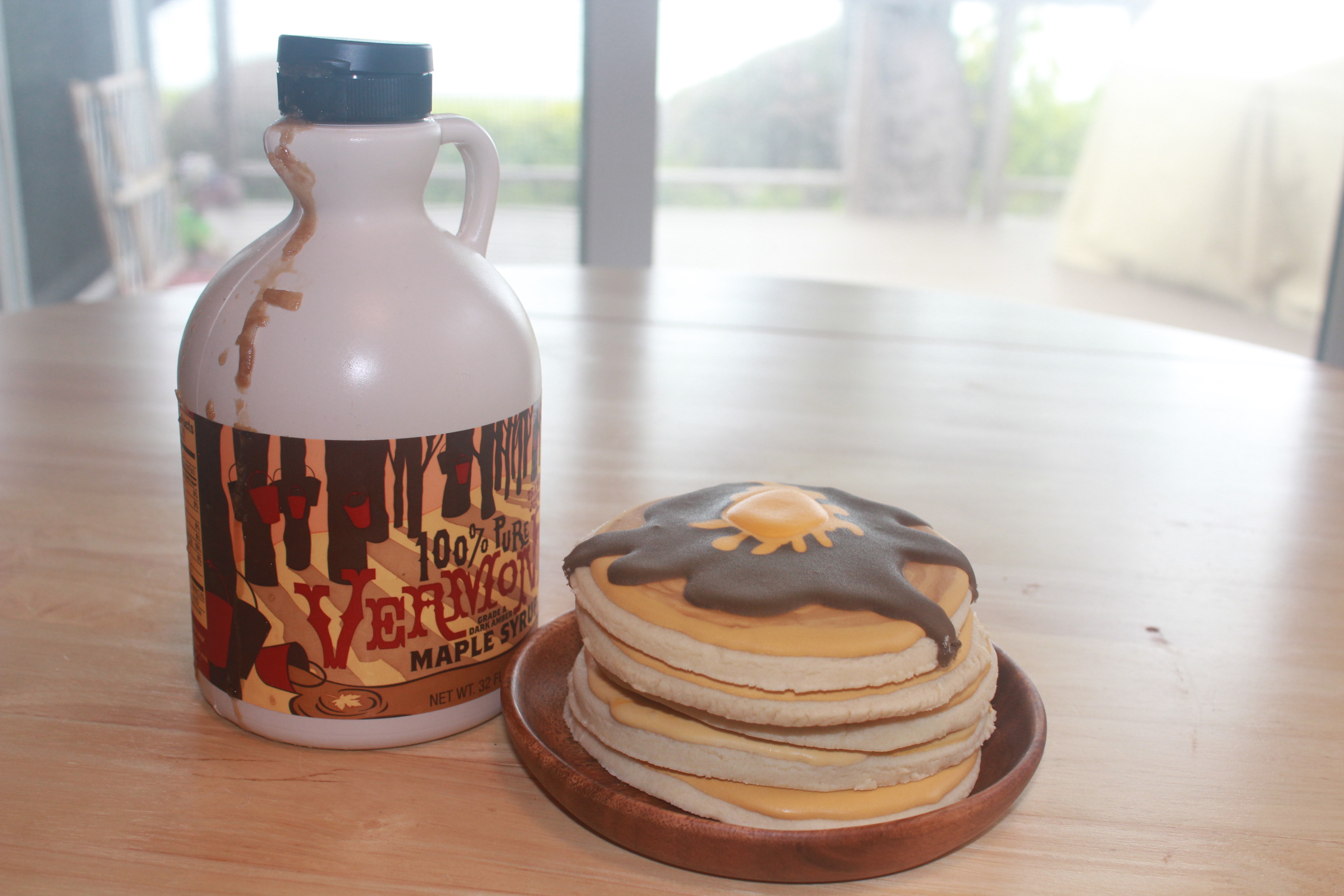 It's the thought that counts with gifts and while I realize for many people the thought of the actual gift is enough, I often find the look of certain gifts or getting someone a gift that they asked for, or giving an IOU for a gift you will pick out together is sometimes just too simple. I'm not particularly skilled at wrapping gifts, so for me baking adds that extra personal look and touch I love. The options for using cookies to enhance a gift are truly endless, but I thought I'd share a few ideas that came to mind!
Vacations – Surprising someone you love with a trip? It's hard to wrap up the excitement of a tropical vacation on a card, but throw in some pina colada and hula dancer cookies and you've got a gift! (Okay, if you're getting someone a tropical vacation you probably don't need to get cookies too, but its a cute idea isn't it?)
Gift Cards – Let's be honest gift cards are excellent and practical if you can't be there to help pick out the gift, but sometimes a little boring for the gift giver. Throw in some cookies that represent the gift – cucumber or nail polish cookies for a day at the spa, game controller for a electronics gift card, clothing or shoe cookies for a department store, you get the idea!
Tickets – Another one that is a super exciting gift, but where the giving doesn't match up (it's just paper after all.) Consider cookies that look like popcorn or a favorite character for movie tickets, or a band logo for a concert.
Do you like to add anything special to the gifts you give? Tell me about it in the comments!