In honor of National Dessert Day it only seems appropriate that for today's anniversary countdown we talk dessert. I love all kinds of desserts. I don't discriminate, but for some reason I had it in my head that I did not actually want a traditional wedding cake. For months I looked into options that included everything from tiny desserts and mini donuts to food trucks, pies and more. For one reason or another, nothing had sold me and I remained without a final decision until only a month or two prior to the wedding.
My parents and I were grabbing dinner on a pre-wedding visit to Orange County before I headed home when my mom pointed out a well known bakery next door. She said "I know you don't want a cake, and it's probably not in the budget, but it's the best cake I've ever had, you should taste it." Well isn't that the kiss of death? Really who I am to turn down cake. I picked out a giant slice of chocolate peanut butter cake, my husband's favorite combination of just about anything and flew it home with me to San Francisco. The cake had melted slightly on the plane and re-refrigerated, but we ate it regardless. Amazingly, it was still the best slice of cake we had ever eaten. I was sold.
The bakery, which sadly closed only a month after our wedding, was owned and operated by Christopher Garren, an amazing cake artist, who has been featured on many a cake challenge on Food Network. His cakes are beautiful, amazing and really outside of the box. While one of his more elaborate or sculpted cakes was out of our budget, we were able to fit in a simple, but unique design that was worth every penny.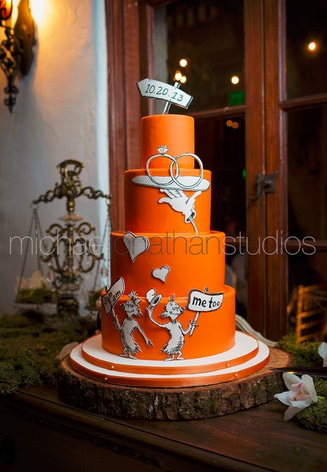 I sent Christopher all of our wedding elements and let him recommend what he thought would make the most impact. We did a tasting with him and ended up choosing the same chocolate peanut butter cake I had tasted on my first visit and decided to base the design off of our Save the Date and the "Sam I Am" theme which seemed to keep making its presence! It was perfect. We even played the "Green Eggs and Ham" song from Seussical when the cake was brought out.
The cake was too perfect to top off, so I made a cake topper of sorts that didn't actually sit on the cake. Still counts, though! I made it out of Sculpey clay so that it would survive the travel and be something we could keep. I added little touches of tulle and ribbon to the dress and adorned my husband and our French Bulldog Huggs with tiny yarmulkes.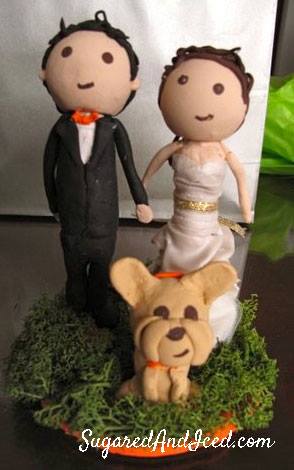 More Anniversary Countdown: