In my non-cookie baking life, I write for and run a website about taking care of and living life with dogs and another dedicated to animal rescue of all kinds. While one might not think there is much reason for dogs, baked goods and parties to overlap, there are actually quite a few instances where it does. Some of my original party blogs are actually on the dog site and are based around dog-themed parties and including your dogs in special events. One day I'll get around to posting them here, but in the meantime you can check them out on my dog author page.
Being that much of my work is spent based around dogs and animals, it regularly crosses into my personal life as I attend a variety of rescue events and have met many wonderful people in the rescue community. Two of those people include Patty and Marie at Muttville Senior Dog Rescue. I met them at an event for Rescue Row in San Francisco a newly named street where the SF SPCA, SF Animal Care  and Control, Northern California Family Dog Rescue and Muttville are all located.  If you are ever looking for a dog or cat in the SF area, I highly recommend you check out these awesome organizations.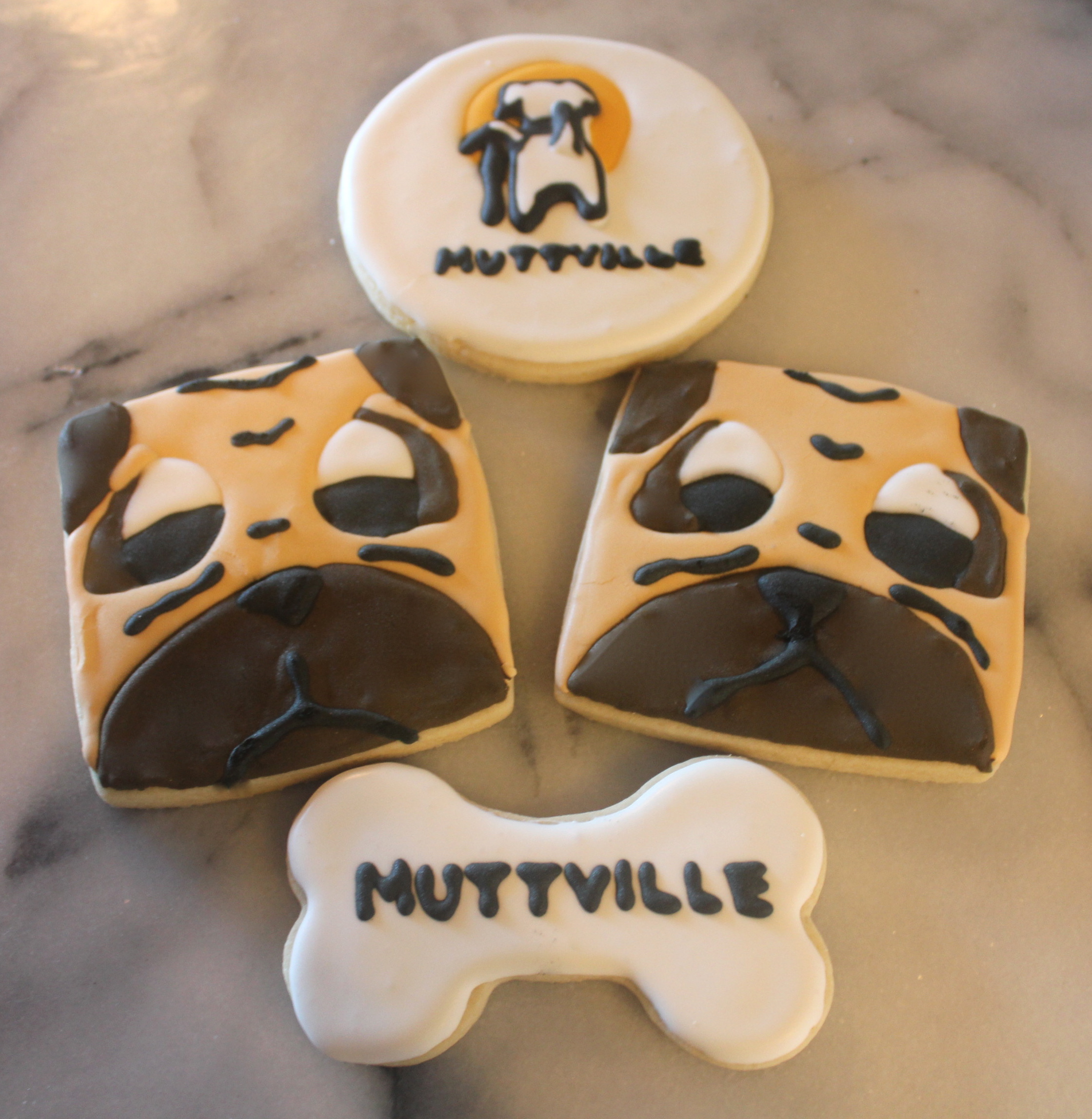 Muttville, specifically, caters to the rescue of senior dogs and if you didn't know it – today is Senior Citizen Day- so show some love to the seniors in your life (human or dog.) Probably one of the most difficult jobs of rescue, seniors can be a hard sell, but make truly excellent pets. And the folks at Muttville do an excellent job at getting that message out there and finding these wonderful dogs a home.
Everyone thinks puppies are so cute and great and they are certainly cute – but greatness is debatable. I have had my French Bulldog Huggs since he was a baby and that being said I can personally attest to the terrors of puppyhood.  The housebreaking, the crying (or in Huggs case screaming – yes my dog screams about not getting his way – the crying may have actually been from me) the barking at me for no apparent reason, eating of every inanimate object in sight and the almost getting me electrocuted on at least one occasion.  As a senior dog almost 8 years old now, Huggs has blossomed into an excellent companion. At 2 he had a breakthrough and at 5 or 6 he made the turn from a good, sweet and wonderful dog, to an amazing, loving, calm dog and literally one of the coolest dogs in the world.
When I visited Muttville I was just amazed by all of the wonderful seniors who just wanted to sit an be loved – really what more could you want for a dog? They are housebroken and they've been around so you know what you are getting. While they might not all be fit for the super active family, they are a great addition to an older home or even a home with children who just want a friend to hang out with. I mean really who has the energy to have a kid and a crazy puppy running around? It just doesn't make any sense.
They also have a program called seniors for seniors- which just makes all sorts of bells go off in my head. What a great freakin idea! We all know that there are many health benefits from dog-ownership and for seniors the companionship is just a must in my mind. Dog ownership also encourages seniors to get out and move and can be a great icebreaker for interacting with new people. This is all great, but how many seniors do you know who are ready to and should take on the challenge and energy level of a puppy or young dog. Senior dogs make an excellent match for senior people and young people who want a cuddly pet.
I will temporarily step off my soap-box for seniors to tell you about a few cookies I made. These were mainly just for a fun gift and for an excellent excuse to tell you about senior dogs, but I attended a Pugs for Mutts Carnival event that served as a fundraiser for Muttville. I thought it would be fun to make a few cookies in honor of the event.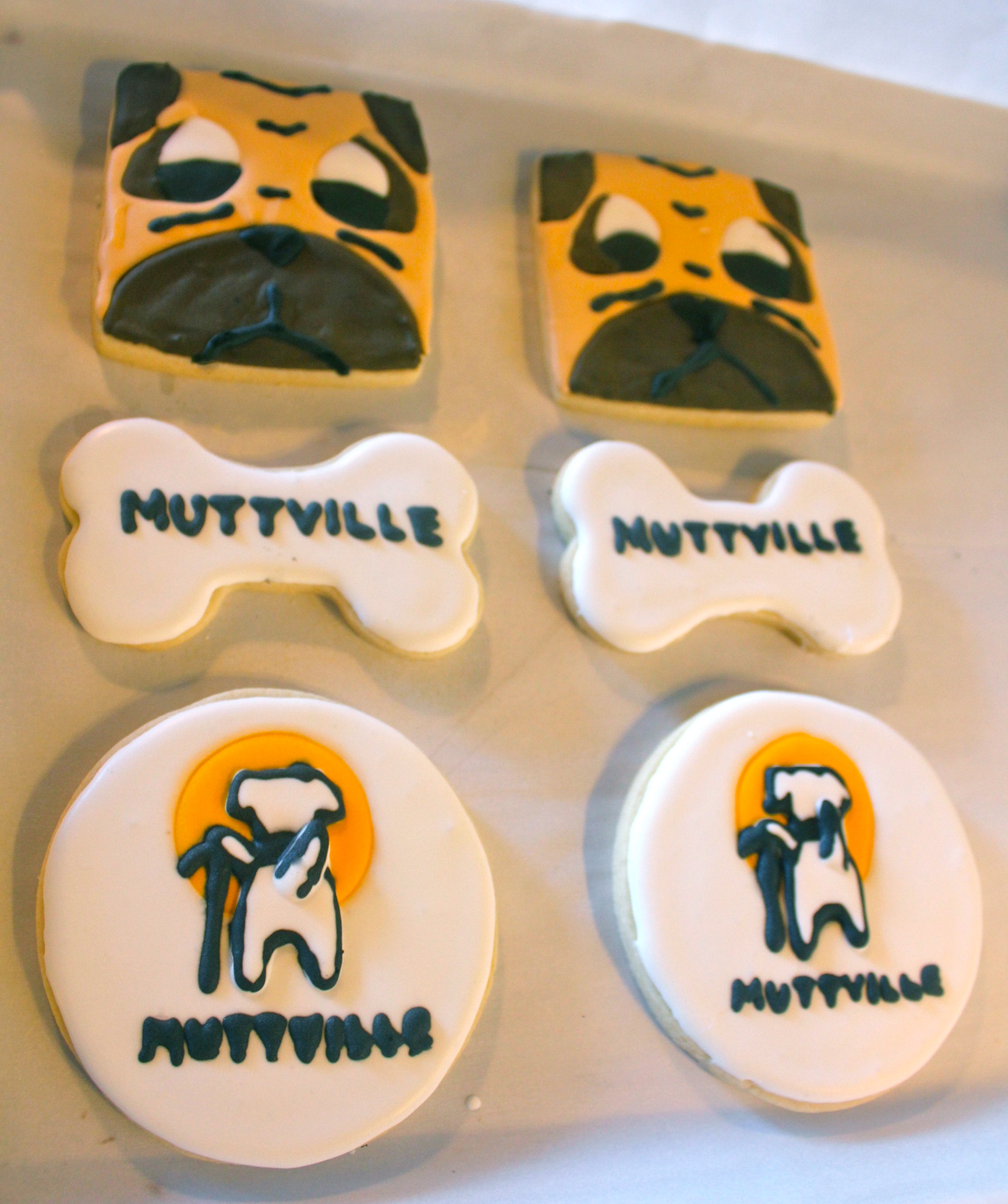 This was my first time trying out my projector – which I promise to tell you all about in another post. So far the projector made it a bit harder and I ended up doing a combo of projector and freestyle, but I plan to spend more time working out that technique.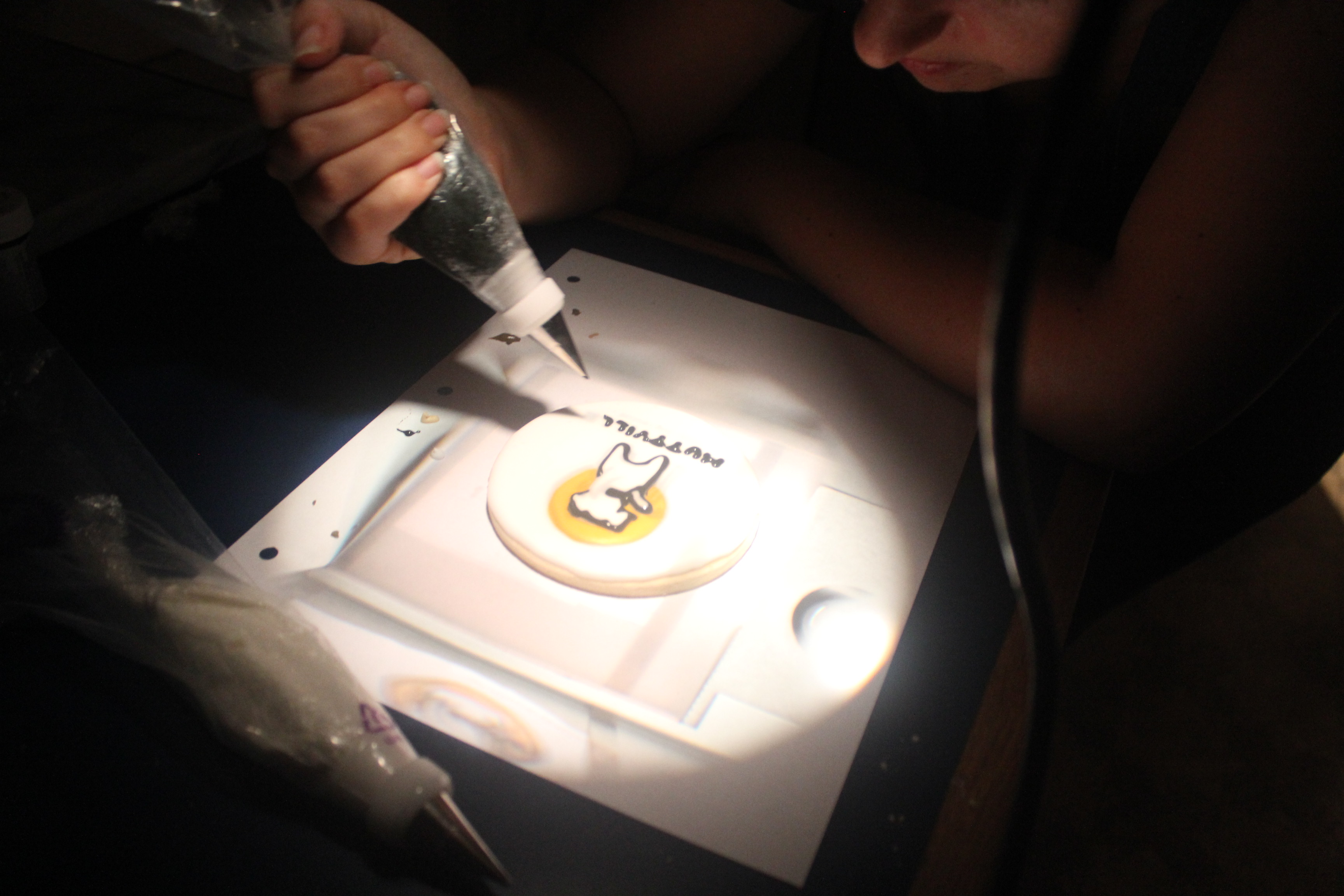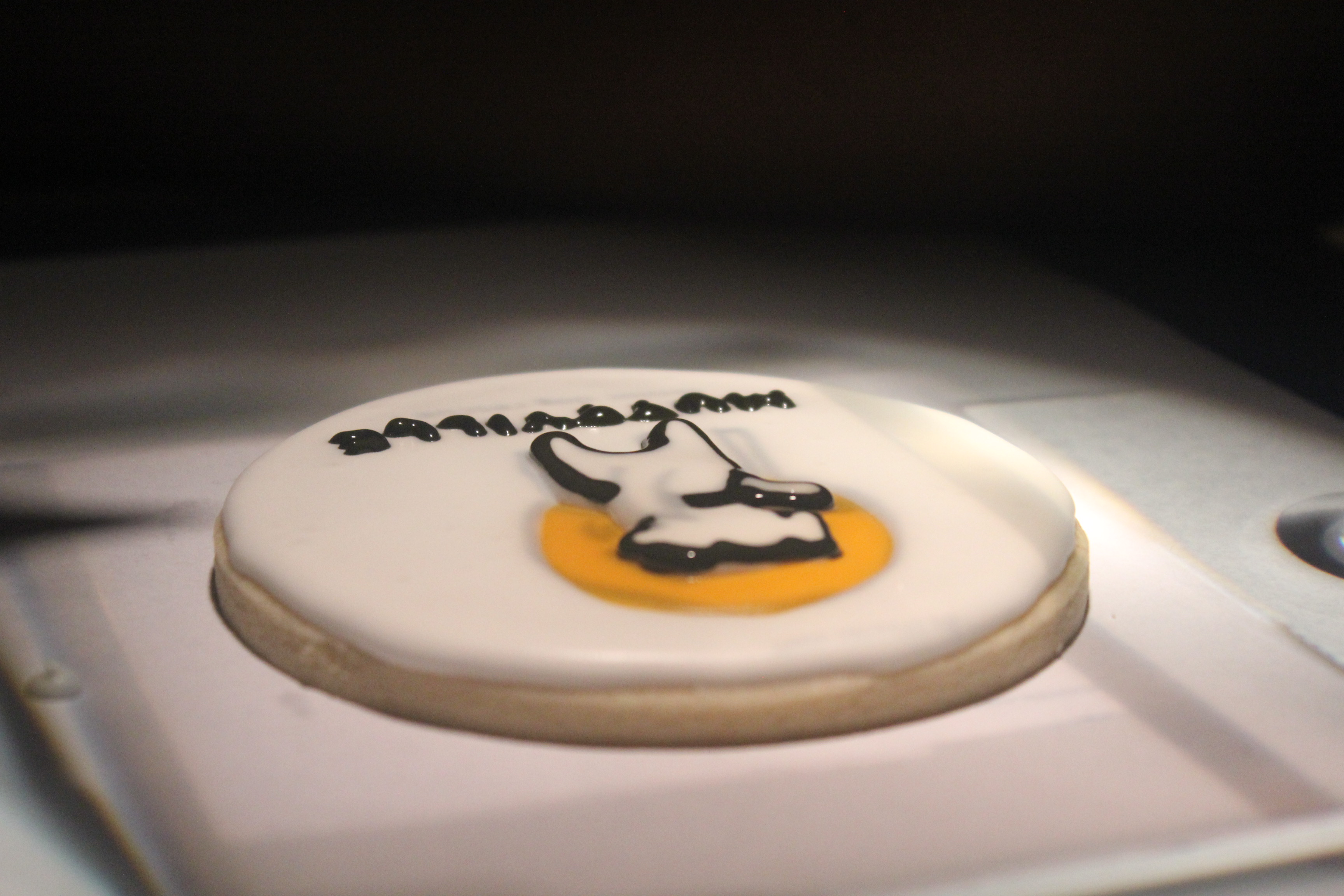 And one more Pug for good measure.
And in case you were wondering what a Pug Carnival is all about, here are your questions answered and your dreams realized.
Another thing I'll add before I go is that cookies for charitable organizations are an excellent idea. If you have any cookie or baking skills or any skills, talk to your favorite charity about how you can get involved! They are often looking for auction gifts or hold bake sales and other events that you can lend your skills. You can also hold your own bake sale or party and donate the money to your favorite organization.
One thing I really hope to do with my cookies is give back and also create awareness for various things, a bit of dough-gooder if you will. Just yesterday I discovered and signed up for a cookie bake sale for the GoBo Foundation. You can learn more about it and also see beautiful cookies at Jill's Funky Cookie Studio's Facebook Page. 
I will also be starting my own program, Cookies for a Cause. For any cookie orders that are in the theme of a charity (any charity at all) I will donate a portion of the proceeds back to that charity. If you are interested in ordering cause cookies send me an email or FB message – there will be more information to come!