With weddings, there aren't many details you get to keep and look at forever. Even the beautiful photos get put aside or kept in an album eventually as things like baby photos take over (none of those yet.) But one thing that you can keep on your wall as a memory of your day is a Ketubah.
A Ketubah is the Jewish wedding contract that is signed during a pre-wedding ceremony. While the significance and meaning of it has changed over the years, the sentiment is the same, once it is signed, you are married in the eyes of Jewish law. Depending on your level of faith, there are a variety of texts to choose from, with the more orthodox text resembling a business contract and the reform discussing the union, partnership and general hopes for the future.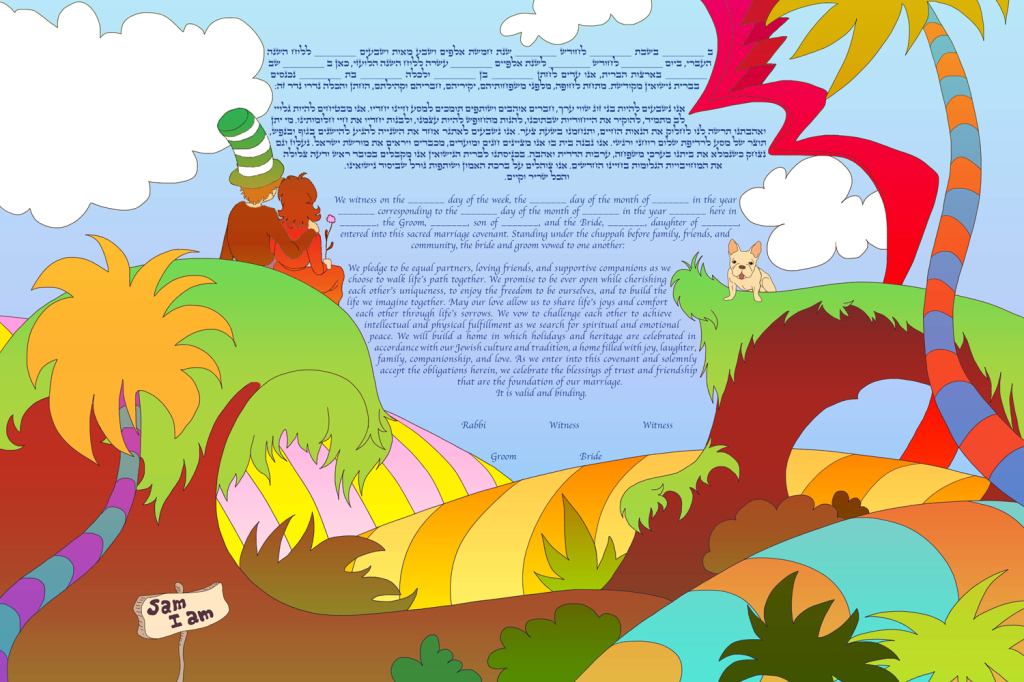 "We pledge to be equal partners, loving friends, and supportive companions as we choose to walk life's path together.  We promise to be ever open while cherishing each other's uniqueness,  to enjoy the freedom to be ourselves, and to build the life we imagine together. May our love allow us to share life's joys and comfort each other through life's sorrows. We vow to challenge each other to achieve intellectual and physical fulfillment as we search for spiritual and emotional piece.  We will build a home in which holidays and heritage are celebrated in accordance with our Jewish culture and tradition, a home filled with joy, laughter, family, companionship, and love. As we enter into this covenant and solemnly accept the obligation herein, we celebrate the blessings of trust and friendship that are the foundation of our marriage. It is valid and binding. "
The Ketubah is meant to be hung in the home where you will be reminded of your love and commitment on a daily basis. But because many people don't like the idea of hanging a paper contract on their wall, they have transitioned into pieces of art with images surrounding or intwined into the writing.
Much like the text there are options available to suit a variety of tastes and since we chose a text that fit us so perfectly, it was only appropriate that we choose an image that fit us well. When I first went looking for a Ketubah that felt like "us," I came up empty. There was nothing that quite fit our personality or style.
I ended up reaching out to ThisIsNotAKetubah.com, a company that creates less traditional and custom Ketubahs. I proposed the idea of what other than a "Sam I am" theme, which they  were  more than happy to come up with something that I wanted, but it was a bit outside our budget. I was disappointed, but figured I would choose one of their other, already created designs and set my focus on more time sensitive wedding matters. When I came back to ThisIsNotAKetubah to "settle" on a less personal option, low and behold, they had created a Seuss-inspired Ketubah.
While it wasn't exactly what I had asked for, there was no doubt that should be ours. With a couple of small adjustments we personalized and simplified the design to be the Ketubah of our dreams.
Another unique feature of our Ketubah that I love, is that the whole thing is printed on wood. We were the first people to choose that option and if you have room in the budget for this organic touch, I say do it! We were a little unsure about spending the money on a Ketubah, but in the end it's a piece of art that will hang in oour home forever.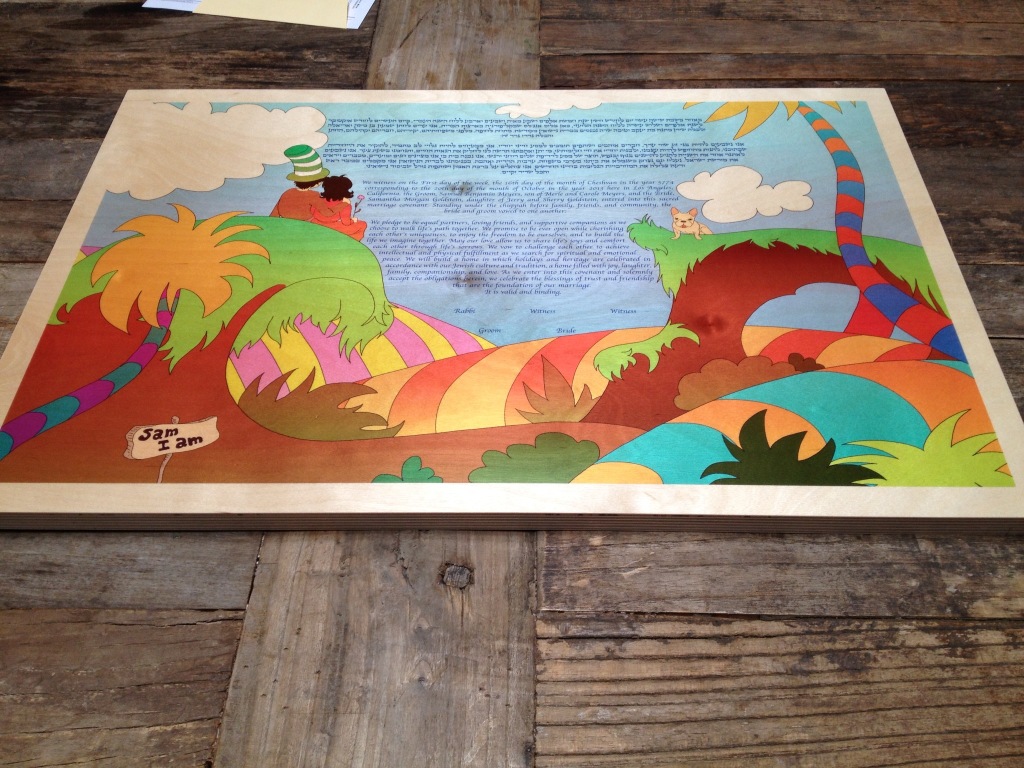 The ThisIsNotAKetubah team was amazing to work with and whether you are picking off the shelf or a more custom option, I highly recommend you check them out!
Anniversary Count Down – Day 9 >>
Anniversary Count Down – Day 10 >>