There are 9 more days till our anniversary, but today is an anniversary of its own kind. 4 years ago today, my husband and I said hello on JDate! I saw from his username that he was also a "Sam" which piqued my interest – all Sam's are good people, right?  Shortly after reading his profile he sent an invite to chat, I believe "Hey there" is how the conversation started, followed by "your dog looks pretty awesome from the photo I saw." It was clear from the first sentence things were going to go well.



Whether it be an invitation to chat on JDate or an invitation to a wedding, there is one key thing to note: First impression matters. An invitation is your opportunity to say "Hi. This is me. And this is my event." Whether you are going for small and classy, whimsical and fun, or big bash blowout, the colors, the words and the overall look of your invitation can set the tone of your event. Regardless of your budget, you can make an invitation that people will remember.
Weddings invitations are oddly similar to dating profiles, as it turns out. With a wedding, your first introduction comes with the Save the Date. A teaser, the Save the Date is much like your profile picture and user information. It tells people a shell of what they need to know, but hopefully piques their interest enough that they will be excited to know more. Like any good profile picture, your Save the Date should capture who you are, while giving people a feeling and mood of what's to come.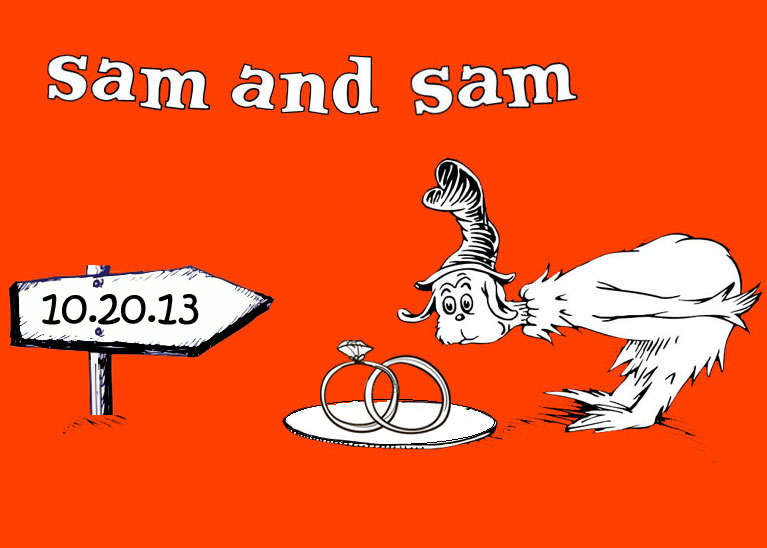 For our Save the Date, well, I don't know if you can call it an obvious choice, but it felt that way at the time (still does.) I mean how can two Sam's get married without anyone not thinking about Dr. Seuss? What kind of wedding would that be? I created the Save the Date myself. The little character is from the great Seuss himself, but the rest was put together or rather, MacGyvered together with clip art, Microsoft Paint, Photoshop and tears… of happiness, to become this postcard. Because I did the art myself, we only had to pay the cost of printing and stamps.
On the flip side was a poem that we wrote in Seuss-esque rhyme to give folks the basic information they needed to know.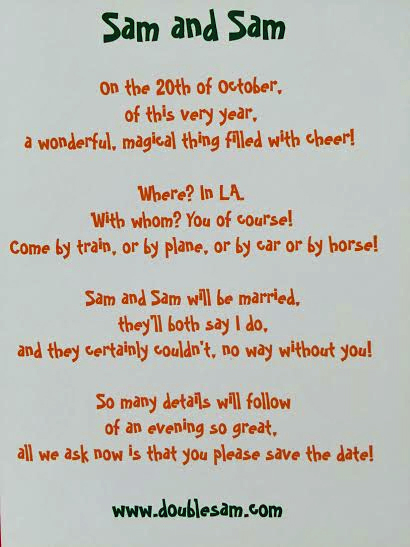 As I was not on the receiving end of this invite, I don't know what people thought when they saw it, but I here's what I hoped it would accomplish:
Tell people who this Save the Date was for
Set the tone for a fun, whimsical event
Give people slight hints of what was to come
Be something we would always love and remember
While most people invited might not have realized it at the time, there were a few major clues to the wedding included. The orange on the card was the main color featured at the wedding and Seuss image and rhyme played a major role throughout the event (in the classiest of ways, of course). Lastly, while we kept with the tradition of mailing a Save the Date, but it wasn't quite traditional, much like the wedding itself.
Now before you go off thinking how weird it is that we had a Dr. Seuss themed wedding – I should let you know that was not actually the case. We actually had a Seuss, Harry Potter and Great Pumpkin themed wedding. That's much more reasonable right? I promise it totally worked.
On to the main event, the invitation. People's interests are piqued and now you get to tell them a little more about the big day – this is your profile, this is what will make them say this is something I want to go to. Okay, so if the yes or no comes down to the invitation, that person probably shouldn't have been invited, but you get the idea. You're just one step further along in setting your tone, letting people know what to expect.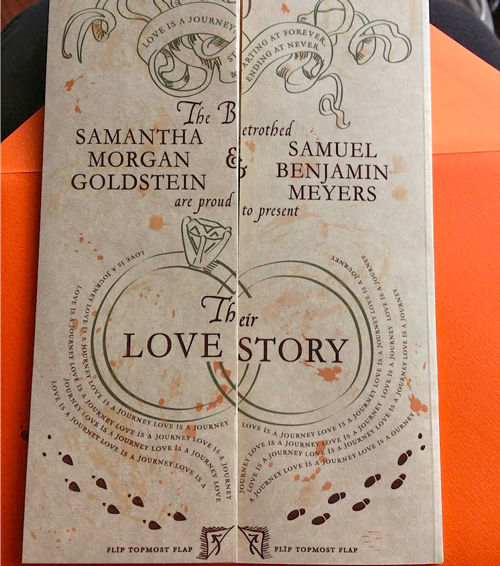 For our formal invitation we went with a beautiful invite created by OneLittleM. Owner Melissa, who has several amazing designs in her shop, was wonderful to work with and let us customize for our colors, details and budget. The invitation was a replica of the Marauder's Map from Harry Potter and also contained (in very small lettering- woven through the map) the story of how we met, dated and got engaged. It was everything I could have ever dreamed of and then some.
I will let the invitation speak for itself, but I will mention a few details on how it tied in. We chose an orange envelope – this matched the Save the Date and the wedding, we changed the font to include green, another color of the wedding. The invite was formal, but fun also in line with our event and hinted at more surprises to come. Most importantly it was totally us and we loved it!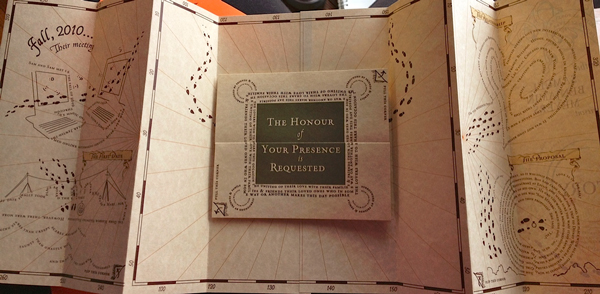 Invitations aren't the be all end all of an event – if they get people there they have essentially done their job. That being said, invites are a great opportunity to get people excited about your event and to let your guests, some of whom you may not have ever met, get a real idea of who you are.
Anniversary Countdown Day 10>>