It's here! Happy anniversary to my wonderful husband! For the final celebration I'm sharing our beautiful wedding video, created by Cotton Love studios.
Thank you to all my blog followers you have indulged me in sharing my wedding details for the past week and a half, is it crazy to tell you I didn't even get to all of them?! There was still a program that rhymed, a Pulp Fiction father daughter dance, a surprise song performance and redwood rings to tell you about, but another time I suppose.
Weddings are interesting things wonderful events of course, but filled with emotions and stress and happiness and everything in between. They go by so quickly and the months of work is up and gone in a flash. I'll be honest that as much as I tried to stop and take things in on the day of, I felt like I could barely remember it, like it was some kind of strange and distant thing of the past. Life goes on after weddings and a few things happen: it's not all about your wedding anymore, you have to find other things to occupy the hours of time you spent doing wedding planning,  you don't really want to think about the work that went into it ever again and while your so happy that it happened, you married the man of your dreams, nothing in your life really changes, but also it does. And then you just move on. You don't often get a chance to truly reflect not just on the details, but what it all meant and also the feeling of that day. So thanks for letting me do that, (not that you really had a choice.)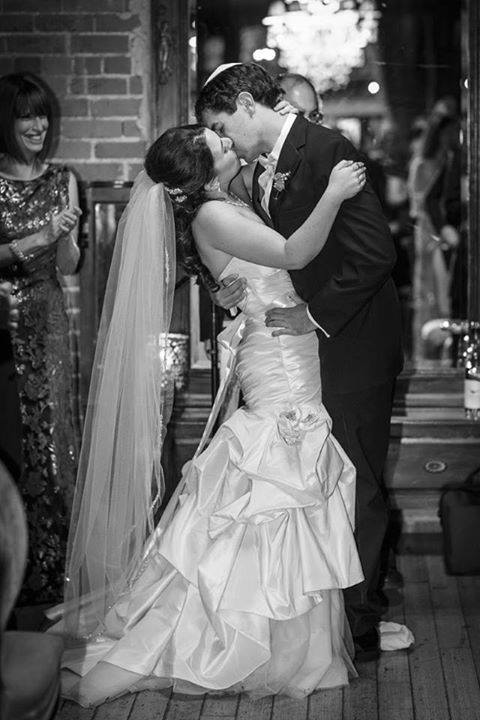 In a rather emotional dinner last night I sat with my husband while he played music similar to what played at our wedding dinner and we sat at the table next to each other like we did at our sweetheart table, instead of across the table like we typically do. I was able to just be there, back in the feeling of our wedding, able to picture myself walking down the aisle again and thinking back to the moment I said my vows and to how it felt to do our first dance. It was hard to think that I had been unable to truly remember those things in that way for an entire year, but also so wonderful to be able to do it.
People always say the first year of marriage is hard, and it was, but not for the reasons I assumed everyone meant. It just is. It's hard to figure our what it means to be married, it's hard to make things feel significant, but also the same. It's hard to find ways to show the person you love that you love them even more than you did when you planned a giant party to celebrate that love. But in the end it's not about the parties, it's about the everyday, just regular things, dealing with life's problems and always celebrating time together. It's about knowing that you would choose that same person all over again.
I choose your kindness that leads you to go out of your way for those around you. I choose your open-mind, your sense of humor, your appreciation for the slightly strange, and your child-like sense of adventure and fun that allows us to fully celebrate all that life has to offer, together. I choose the strength and compassion you share with others and the support and respect you give to all that I bring to the table. I choose your patience and your loyalty and your willingness to sit it out as I take the time that I need to come to my own conclusions. I choose to share with you what I do not always wish to share and to accept and love you for everything that you are.
I cannot wait for all that life has in store for our next year together and the many more years to come.
The Anniversary Countdown:
Day 2: I missed day two 🙁