I don't consider myself a "gamer" by any means, but I enjoy me a video game or two. I have very specific requirements for my games: it must contain cute non life-like characters, preferably animals, inanimate objects, mysterious creatures, or tiny people dressed like any of those things, it must have something funny or amusing, it must have some kind of collecting and it must involve, crafts and magic. Surprisingly few games fit my demands, but one that is right on the money and even has the bonus of being about Halloween, is Costume Quest.
In Costume Quest you are a tiny human trick or treating on Halloween. Your brother gets taken by candy-loving creatures called grubbins and you must trick-or-treat and fight them to get your brother back. My favorite features of the game are the adorable costumes which you collect and craft together. I am also a huge fan of the battle stamps that you earn and buy with candy and keep in a handy dandy notebook. Battle stamps have skills like "fang of the wolf" and "egg on your face" which give you extra power or allow you to stun your opponent when you are in a fight with a grubbin.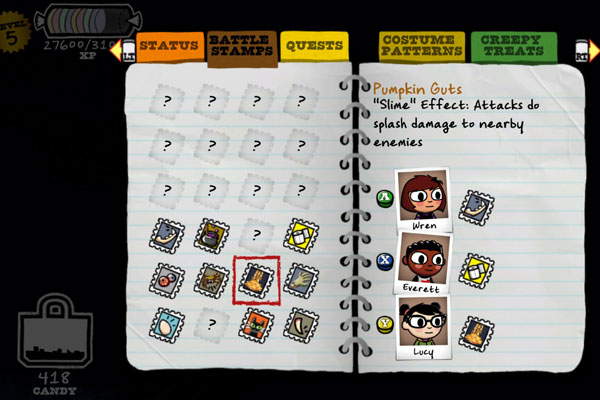 I play Costume Quest every year before Halloween, but this year, Costume Quest Two is coming and I couldn't be more excited.  It has already been released on computers, but I am anxiously awaiting it's arrival on my husband's Xbox. In honor and celebration of this Halloween gift, I decided it would only make sense that I make a set of Costume Quest cookies.
Because I love the battle stamps I decided to focus on those (even though I just heard they are not in the new game.) I really like the simple and child-like art on the game, so I decided to use edible pens to draw and color the images. I also knew this would a perfect opportunity to put one of my favorite Printsicle cookie cutters to use. Isn't the stamp shape adorable? So many options for this little guy and it's just so unique!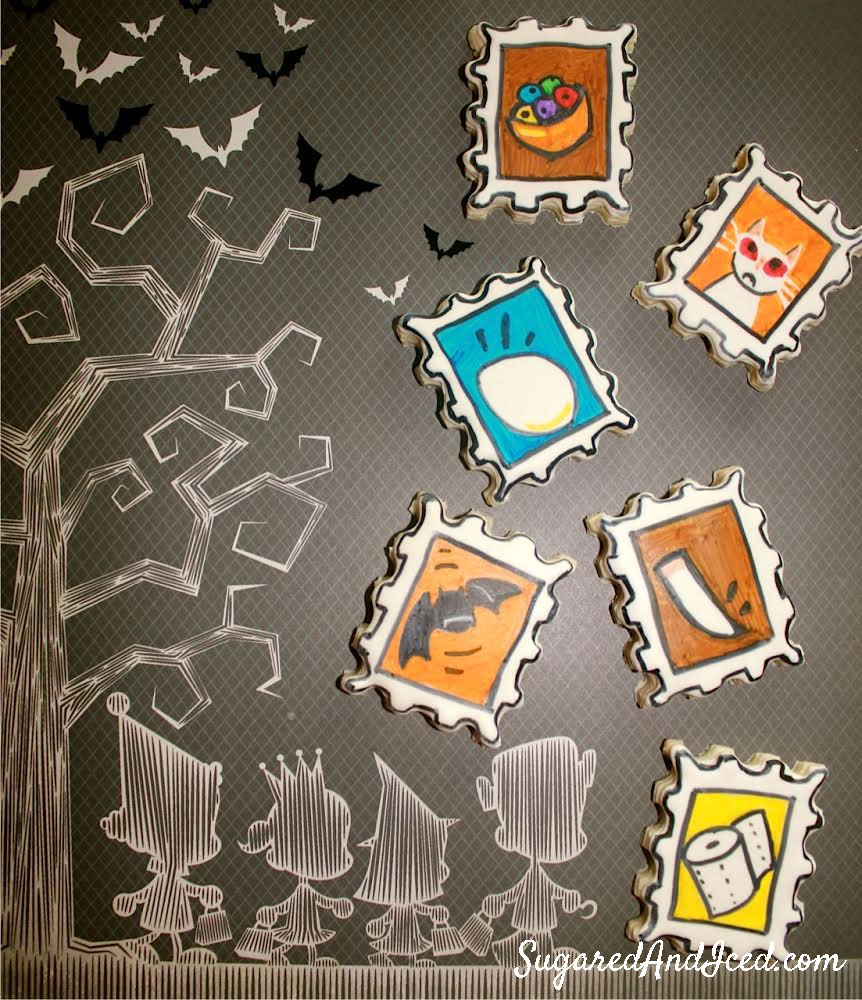 I can't wait to eat these while drinking pumpkin cocoa and playing Costume Quest. I will likely be wearing a costume and sitting amongst a pile of tiny pumpkins while I do.
Star Wars Cookies and Blue Milk Recipe>>